The owners of Dorade —Matt Brooks and Pam Rorke Levy—were two of four individuals in the maritime community honored at the recent National Maritime Historical Society awards dinner at New York Yacht Club. As usual, the Society brought together an impressive gathering of those who love and serve the sea.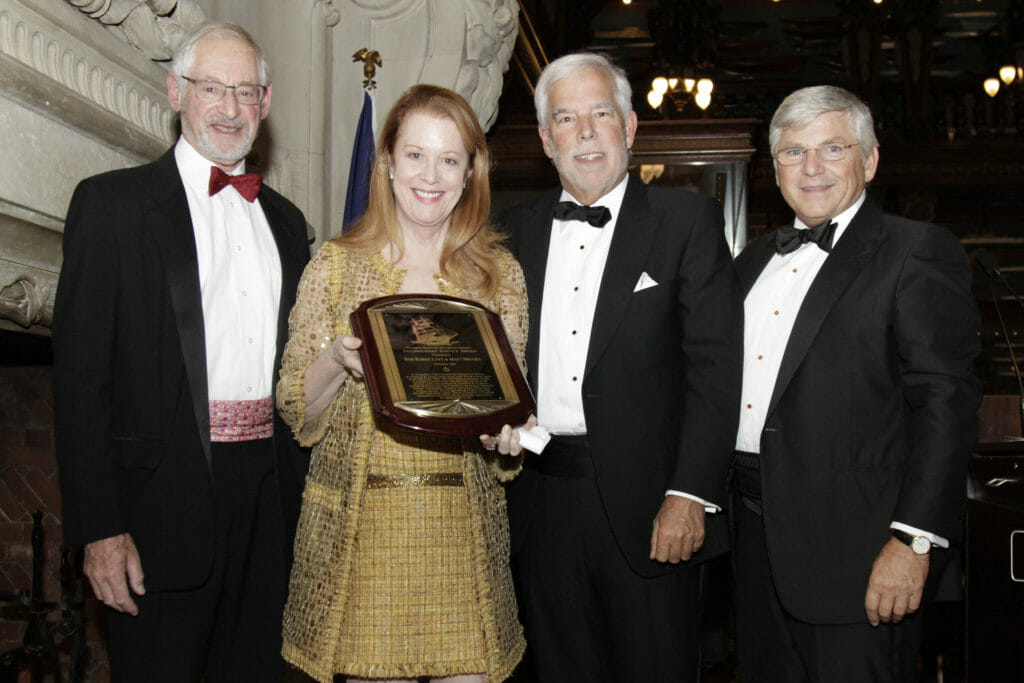 "Matt and I felt honored to be recognized by the National Maritime Historical Society," said Pam, "and to celebrate with our friends and fellow sailors in the New York Yacht Club's beautiful model room, the perfect setting for this annual event. Restoring Dorade has been one of the most rewarding experiences of our lives, and receiving an award for all the fun we've had over the last eight years definitely feels like gilding the lily. Many thanks to Vice Commodore Chris Culver, Richard du Moulin, and all of the folks at the Society who made this lovely evening possible."
Here's an excerpt from the event program:
Purchasing Dorade in 2010, Brooks and Levy restored the historic yacht to not just a seaworthy condition, but racing condition, before kicking off their "Return to Blue Water" campaign. Built in 1930 at the Minneford Yacht Yard in City Island, New York, Dorade claimed victories that decade in the Newport Bermuda, Fastnet, TransAtlantic, and Transpac races. As part of her 21st-century campaign, Dorade has repeated each of these races in the last seven years, reaching the podium in every race, and winning the Transpac overall—77 years after her first victory there. In 2015, the campaign wrapped up by placing second in class in a 2,800-mile TransAtlantic Race, followed by second in class in the Rolex Fastnet Race, where Dorade finished 7th overall out of 356 boats. In the 2017 Rolex Sydney-to-Hobart Race, she finished second in class and was the oldest boat to ever complete the race. Beginning in May 2020, Dorade will compete in
the 3,570-mile Transpac Tahiti Race, which sails from Los Angeles to Tahiti. In addition to their efforts to restore Dorade, Levy and Brooks will also be recognized for restoring the Feadship Serena, a beautiful 74-foot motor cruiser designed by Carlo Riva and built in 1964 in the Netherlands by the De Vries Brothers, the fourth boat of the Caravelle series. Serena now serves as the support vessel to the Dorade racing team.
Matt Brooks learned to sail in Monterey Bay as a boy and went on to race on San Francisco Bay on his first yacht, Quarter Pounder. Brooks serves as chair and president of the New York Yacht Club Foundation and as a commissioner for San Francisco's Asian Art Museum. He is a member of the Board of Pilot Commissioners for the Bays of San Francisco, San Pablo, and Suisun. With partner Pam Rorke Levy, he works to support the St. Francis Sailing Foundation based in San Francisco. Brooks is also an accomplished mountain climber and pilot.
Pam Rorke Levy is an Emmy-winning television producer and creative director and now serves as board chair of the San Francisco Art Institute. She has produced documentary series and projects for PBS, National Geographic, The Discovery Channel, A&E, and The History Channel. An avid sailor and lover of classic wooden boats, Levy regards these vessels as an art form in their own right.